Post by GAZ on Aug 2, 2006 18:51:29 GMT
I have for sale a
H&B CA-5555 MP3/CD Car Stereo + USB & Card Slots
CLICK HERE TO BID ON EBAY
Click Here To Buy On Amazon
I will throw in 20 or more MP3 CD's full of albums of your choice (depending on final price and Yes I'll even let you pick your own albums to go onto the discs). I have most things from Dance, House, Hardcore to Rock, Pop, Love...
If you love music it's worth buying this just for the discs. You can't go wrong! I'm looking for quite a high price for this head unit seeing as it is used. But I will make sure you get your moneys woth in music with it.

The unique CA-5555 car radio is multimedia oriented as one of the few models to include a USB port and SD memory card slot, to allow you to use other media for MP3 files.The 4 x 45 W amplifier i backed up by 4 DSP equaliser modes and Loudness for great sound quality with driving bass sounds. MP3 compatibilty for the CD-R/RW player will give you hours of music on the same disc.The CA-5555 hs an impressive range of connections with 2 line inputs and 4 RCA outputs for external amplification.The large multicolour display gives the CA-5555 a very cool neon look.
Not only is it a fully featured slot loading audio CD player that supports both CD-R/RW disks along with a well specified FM tuner suppoting RDS, TA/TP and AMS, the CA USB 5555 also supports MP3 file playback. Track names scroll across the unit's screen due to its support for ID3 tags and an MP3 track search function allows you to find your favourite tracks at a touch of a button.
However, there are plenty of MP3 CD players on the market already, what makes the CA USB 5555 different is that it features both a USB port (for connecting an MP3 player/USB disk with removable disk drive support) and a built in SD/MMC card reader. This means that you have three different ways to play MP3 files in your car.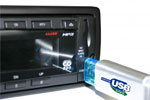 The CA USB 5555 is a great sounding unit (4 x 45W), especially when paired up with a decent subwoofer. It features a multi coloured VFD display along with an anti-theft flip-down detachable panel.
The reason I bought this was that I already had an MP3 CD player in the car, but it took too long to keep burning Mp3 CD's everytime I got one or 2 new tracks I wanted to listen to. I even tried using Nero's InCD but it wouldn't read the disks.
With this I can download a track, copy it onto my Pen Drive, get in the car and be playing, All in less time than it takes to warm the diesel engine!
I don't think I still have the original box and packaging, but I will have a look round for it. Not sure if I have the instructions either, but it's very easy to fit so if I can't find them it won't be any big deal.
More Technical Details:
Key Features:
Player Type CD
MP3 / WMA Playback MP3 Playback
Anti-Theft Protection Detachable Face Panel
Additional Features Animated Display
Amplifier / Speakers
Built-In Power Amplifier Yes
Built-In Amplifier Power 4 x 45 Watt
Radio Tuner Type: FM / AM • RDS
Dimensions
Depth 0.51 in.
Height 0.16 in.
Width 0.58 in.
I've used this for a few month's now with no problems at all. It hasn't even skipped on a CD once unlike my last car mp3 player.